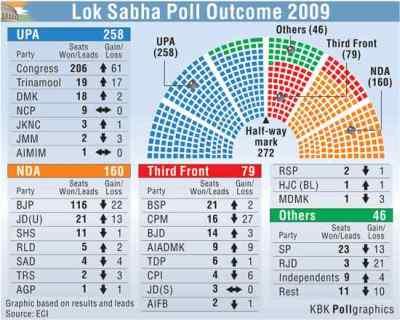 Once again the BJP has lost, and their numbers are even worse than they were 5 years back in 2004. Once again the BJP fought this election with a strategic emphasis on communal divide. They then went all out to promote this, with aggressive campaigning across India, running newspaper advertisements, making TV appearances, running large scale online banner campaigns; and they even gave social media marketing a go via Facebook and Orkut groups; and their leader LK Advani even aggressively promoted his blog, the 1st of a major Indian politician. So interms of marketing execution they were A++.

It is their product that was faulty that cost they yet another election. They are trying to push a communal strategy where they hold one religion superior over others, to a youthful India (60% of India is under 25) who has grown up on a live TV & Internet diet of MTV, Reality Shows, Soap Operas, Travel Shows, Discover Channel, Fashion TV, Tabloids, Social Networking, Blogging, Wikis, Gaming and 20/20 cricket; who have been indulging more and more in cross community marriages; and work in corporate cultures where all are welcome, where skill is the only thing that counts! Are the youth of India interested in one community greater than the other? Ofcourse not! They are interested in buying house, nightclubbing, playing tennis, travelling and running up the corporate ladder. This is now no longer a theory, it has been proven at great cost of 2 national election losses for the BJP.

I am however sad that the BJP product is faulty. It takes away from the people a credible 2nd alternative to the Congress, who have scored a homerun once again, up 41% from the last election! With no credible 2nd alternative, we have no choice but to vote for the Congress; there is no alternative party that presents a merit based agenda of development that we can choose from. Its sad for the country.

I would love it that India has 2 strong political parties which present an option of development agendas, so that we may choose amongst them.

The BJP may have lost, but its far from a spent force, it has the national presence and millions of party workers. It needs to shed the communal divide plank and solidly base itself on development. It should do this as soon as possible, so that in 5 years it provides India with a choice. Ofcourse it has other ills such as lack of youth in their party, but that is not as large an issue as their core positioning as a communal party. Lets hope someone in there wakes up!

Ps. its interesting to see that independents went up from 5 last election to 9 this time, possibly showing that people are looking for alternatives.

PPs. The CPI+CPM's anti development policies of the last 5 years gave them a thumping defeat, down 62% from the 2004 elections! This again shows that India wants a pro development government.